Attitude shaping with theatrical tools
Publicated on: October 22, 2021
The play 'I Will Stand for You' was put on stage by the Hungarian Police on October 20, 2021 on occasion of the European Anti-Trafficking Day.
The event was opened by Dr. Mátyás Hegyaljai, national coordinator for the fight against trafficking in human beings. In his speech, he highlighted the government's sustained efforts to tackle human trafficking. In addition to prevention and victim protection, improving the effectiveness of law enforcement is also a priority in the national strategy. It is illustrated, among other measures, by the amendments to the Criminal Code in 2020 and the appointment of human trafficking senior supervisor officers at all county police headquarters during 2019.

The theatre play 'I Will Stand for You' also fits into this line of action. It had been performed in children's homes around 80 times between 2015 and 2020, and now the company reworked it for the sensitization of the police staff.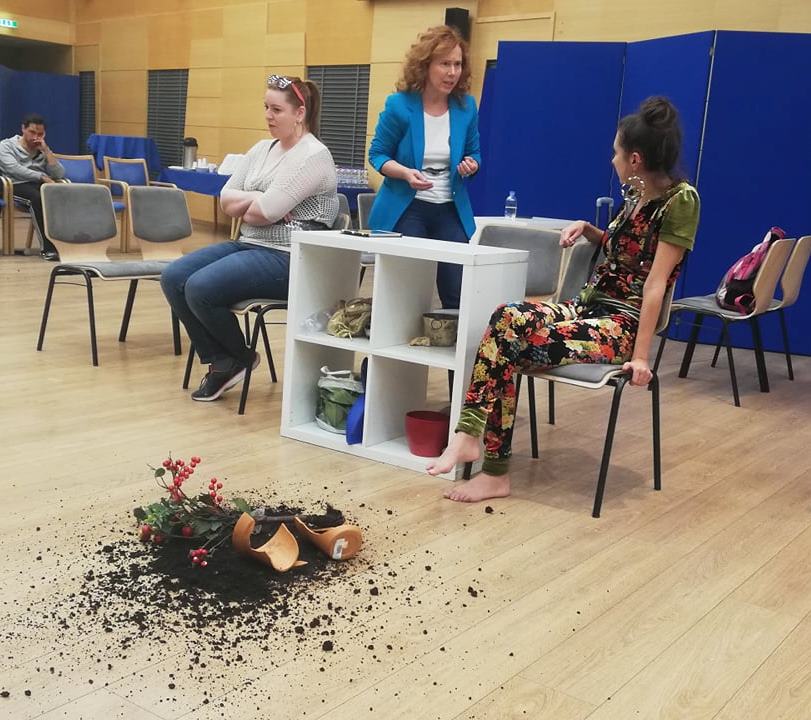 The rough, true-to-life play reveals to us the fate of girls raised in state care and subsequently involved in prostitution as well as the reactions of the society. The protagonist has already suffered from deprivation, emotional neglect, verbal and sexual abuses in her childhood. Soon, the "loverboy" appears on the scene, who seduces the victim with kindness and small gifts and later persuades her into the runaway. On the train from the northeastern part of country to Budapest, the archetype of the middle-class citizen is also travelling with them, who is completely unfamiliar with the vulnerability of those raised in state care. The figures of child care professionals are also considered typical, who would do their best for the children entrusted to them, but turn out to be ineffective against the dangers of sexual exploitation. In the last scene, we are confronted by the phenomenon of victim blaming as well (outrage at the girls' apparent well-being, first class travel, fashionable clothes and expensive jewelry).

After the showing, the police staff took part in a drama session, which brought even closer the background of young vulnerable girls and the modus operandi of sexual exploitation. In the coming years, more performances will be organized for the police staff, which in the long run will significantly improve the police action against prostitution.
Menu
Navigation